Michael Gerson: A Salt And Light Disciple Of Jesus
Dec 17th, 2022 | By
Dr. Jim Eckman
| Category:
Featured Issues
,
Politics & Current Events
The mission of Issues in Perspective is to provide thoughtful, historical and biblically-centered perspectives on current ethical and cultural issues.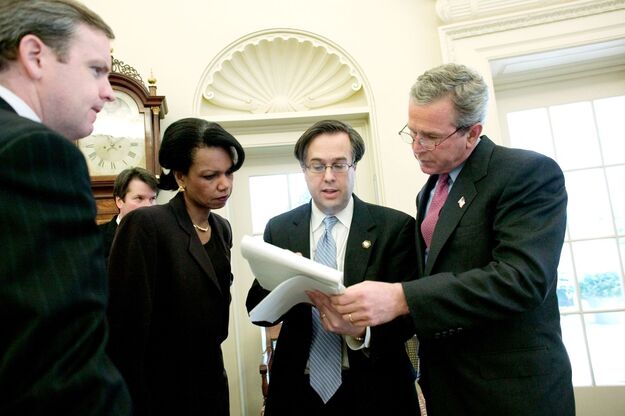 In Matthew 5:13-16, Jesus declares that His disciples are "the salt of the earth" and "the light of the world."  Salt and light are metaphors, each with piercing meaning and application.  In the ancient world, salt was primarily used for preservation purposes—to prevent perishable food from decay.  Light exposes darkness for what it really is.  So, as Jesus' disciples walk with Him in loving obedience, they function as a preservative, preventing the surrounding culture from further decay.  Similarly, by what they say and do, His disciples expose the darkness of human sin for what it is—debilitating, destructive darkness that cripples and destroys.  Michael Gerson was a newspaper columnist, serving various publications over his life, including most recently the Washington Post.  He also served as a speech writer for President George W. Bush.  As a devoted follower of Jesus, Gerson represented His Lord as both salt and light.
In mid-November 2022, Michael Gerson (58) died of complications of kidney cancer. Michael John Gerson was born in Belmar, N.J., on May 15, 1964, and raised in and around St. Louis by evangelical Christian parents. His mother was an artist; his father was a dairy engineer whose work included developing ice cream flavors.  He studied theology at Wheaton College, an evangelical school in suburban Chicago, graduating in 1986.  After he graduated from Wheaton, he went to work for Charles Colson of Prison Fellowship. He got involved in American politics by serving Senator Dan Coats, where he began to develop his ideas about "compassionate conservatism."  He advocated for government cooperating with religious organizations to aid poor communities both within the US and overseas.  In an interview with the New York Times, Gerson declared that "the reality here is that scrubbing public discourse of religion or religious ideas would remove one of the main sources of social justice in our history.  Without an appeal to justice rooted in faith, there would have been no abolition movement, no civil rights movement, and no pro-life movement."  To that end, Gerson not only wrote speeches for President Bush, he also advocated for attacking the AIDS crisis in Africa, which Bush did with fervor and commitment.
In his last column for the Post before he died, Gerson reflected on the emotional pain of sending his younger son to college and what being a father had taught him about life. [The essay was originally published in 2013.]  "The emotions of a parent, I can attest, are an odd mix: part pride, part resignation, part self-pity, even a bit of something that feels like grief . . . Eighteen years is not enough. A crib is bought. Christmas trees get picked out. There is the park and lullabies and a little help with homework. The days pass uncounted, until they end. The adjustment is traumatic. My son is on the quiet side — observant, thoughtful, a practitioner of companionable silence. I'm learning how empty the quiet can be . . . Parenthood offers many lessons in patience and sacrifice. But ultimately, it is a lesson in humility. The very best thing about your life is a short stage in someone else's story. And it is enough.  The end of childhood, of course, can be the start of adult relationships between parents and children that are rewarding in their own way. I'm anxious to befriend my grown sons. But that hasn't stopped the random, useless tears. I was cautioned by a high-powered Washington foreign policy expert that he had been emotionally debilitated for weeks after dropping off his daughter at college for the first time. So I feel entitled to a period of brooding . . . Well, 18 years is a window that closed too quickly. But, my son, those days have been the greatest wonder and privilege of my life. And there will always be a room for you."
Karen Tumulty, a colleague of Gerson's at the Post, wrote of Gerson's influence on her  life:  "One of the biblical injunctions sometimes cited by Michael Gerson . . .  comes from the New Testament book of Colossians: 'Let your conversation be always full of grace, seasoned with salt, so that you may know how to answer everyone.'  That advice works not only for Christian believers such as he was, but also in the sometimes brutal political world in which he made his mark. He was a presidential speechwriter whose own words were, indeed, singularly seasoned and notably full of grace. For the past 15 years, he enriched the pages of this newspaper as a columnist for the Opinions section.  But civility, as Mike also noted, does not preclude tough-mindedness. Nor should it be mistaken for a lack of principles or perspective. His own were rooted in the faith that fueled and defined his involvement with politics, and he was scorching in his assessment of his fellow evangelicals when theirs took what he saw as a more cynical turn. In a September essay he wrote these supposedly conservative Christians 'have broadly chosen the company of Trump supporters who deny any role for character in politics and define any useful villainy as virtue. In the place of integrity, the Trump movement has elevated a warped kind of authenticity — the authenticity of unfiltered abuse, imperious ignorance, untamed egotism and reflexive bigotry.  This, Mike wrote, 'is inconsistent with Christianity by any orthodox measure.'"
She continues, "As deep as his own Christian religious beliefs were, Mike was tolerant, accepting, even admiring of those who prayed differently. And while he was by and large a social conservative, Mike knew that not every question involving faith and truth could be resolved along the bright battle lines of the culture wars, or literally be set in scripture . . .
But he also believed that religious institutions, including schools and charities, should have leeway to shape their own standards . . . Mike combined his lived faith with his gift for expression to offer a hand to others — showing that they are not alone in the dark. 'Even when strength fails, there is perseverance,' he said in his sermon. 'And even when perseverance fails, there is hope. And even when hope fails, there is love. And love never fails.'  Now, his unearned suffering has ended, and those he touched, including many who never met him in person, will so deeply miss Michael Gerson's company. His grace was a blessing, and we need it more than ever."
Michael Gerson was a trophy of God's grace.  God placed him in the center of political power for a season; his influence there was extraordinary.  He touched many around him with the truth of the Gospel.  He represented that unique mixture of compassion, tough love and an adherence to first principles sourced in Scripture.  He epitomized what Jesus meant by "salt" and ""light"—and we all profited from his life.  I looked forward to his weekly columns.  They were always thought-provoking and challenging.  I will miss his gracious yet honest assessment of both American culture and evangelical Christianity.  He represented His Lord well—and he is now enjoying the presence and fellowship of His Lord.
See the Gerson obituary in the New York Times (18 November 2022); Michael Gerson in the Washington Post (17 November 2022); and Karen Tumulty in the Washington Post (17 November 2022).