Religious Liberty Redux: The Calvary Chapel Decision
Sep 12th, 2020 | By
Dr. Jim Eckman
| Category:
Featured Issues
,
Politics & Current Events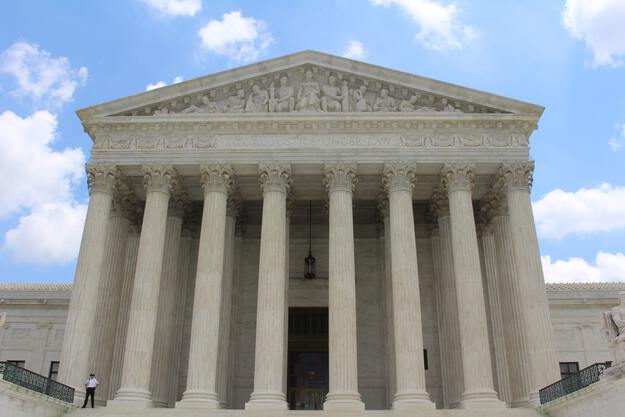 This summer, the Supreme Court has ruled, for the second time in the last two months, against a church which sought exemptions from statewide restrictions on houses of worship during the COVID-19 pandemic (Calvary Chapel Dayton Valley v. Sisolak).  Calvary Chapel involved a Nevada public health order governing which businesses and institutions are able to remain open during the pandemic, and under what terms these institutions may do so. According to that order, churches may not admit more than 50 people at the same time. Yet other institutions, such as casinos, breweries, bowling allies, and gyms, may operate at 50 percent capacity.  As Ian Millhiser explains, "The general rule in religion cases such as Calvary Chapel is that people of faith have to follow a 'valid and neutral law of general applicability.' That is, churches typically cannot claim special exemptions from the same laws that apply to anyone else. If other local businesses and gathering places have to comply with the local fire code, churches typically will have to do so as well.  But the government typically may not single religious institutions out for inferior treatment that it does not impose on secular institutions. A state could not, for example, require places of worship to install an elaborate and expensive fire suppression system unless similar institutions were also required to install such a system."
How does the Calvary Chapel case relate to the South Bay United Pentecostal Church v. Newsom decision handed down in May?  In that case, the Court also ruled against a church that objected to state public health rules. Both Calvary Chapel and South Bay involved this distinction between laws of general applicability and laws that treat churches differently than similar institutions. South Bay, however, was a fairly easy case because, if anything, the California public health rules at issue in that case gave places of worship more favorable treatment than similarly situated businesses.  "California planned to reopen businesses and other institutions in four stages. By the time South Bay reached the Supreme Court, retail businesses and many workplaces had reopened, albeit with restrictions. Most places where groups of people gather in auditorium-like settings, such as movie theaters and live concerts, remained closed. But places of worship were allowed to reopen at limited capacity.  Thus, churches were treated more favorably than similarly situated businesses, as they were allowed to reopen sooner than other places where groups of people gather in auditorium-like settings.  As Chief Justice Roberts wrote in an opinion explaining why he voted against the church in that case, "although California's guidelines place restrictions on places of worship, those restrictions appear consistent with the Free Exercise Clause of the First Amendment." Whatever restrictions California placed on churches, "similar or more severe restrictions apply to comparable secular gatherings, including lectures, concerts, movie showings, spectator sports, and theatrical performances, where large groups of people gather in close proximity for extended periods of time."  Thus, Roberts reasoned, California's public health order could remain in effect without any additional accommodations for places of worship. Yes, the state did allow some businesses to open with fewer restrictions than those imposed on churches, but the secular institutions most similar to places of worship were treated less favorably than comparable religious institutions.
What are the implications of the Calvary Chapel decision?  In simple terms, a divided Supreme Court turned down a request by a Nevada church for permission to hold services on the same terms that other facilities in the state, including casinos, are allowed to hold gatherings during the COVID-19 pandemic.  As Justice Neil Gorsuch explained in his dissent:  "This is a simple case. Under the Governor's edict, a 10-screen 'multiplex' may host 500 moviegoers at any time. A casino, too, may cater to hundreds at once, with perhaps six people huddled at a craps table here and a similar number gather around every roulette wheel there. Large numbers and close quarters are fine in such places. But, churches, synagogues, and mosques are banned from admitting 50 worshippers—no matter how large the building, how distant the individuals, how many wear masks, no matter the precautions at all."  Gorsuch went on to say, "In Nevada, it seems, it is better to be in entertainment than religion . . . There is no world in which the Constitution permits Nevada to favor Caesar's Palace over Calvary Chapel."  Furthermore, Justice Brett Kavanaugh explained in his dissent that the transmission risk "is at least as high at restaurants, bars, casinos and gyms as it is at religious services." Additionally, the states can "subject religious organizations to the same limits as secular organizations," they can't "impose strict limits on places of worship and looser limits on restaurants, bars, casinos, and gyms, at least without sufficient justification for the differential treatment of religion."  Indeed, Justice Samuel Alito also explained in his dissent, "Allowing Calvary Chapel to admit 90 worshippers presents a greater public health risk than allowing casinos to operate at 50% capacity is hard to swallow."  Justine Alito:  "The Constitution guarantees the free exercise of religion. It says nothing about the freedom to play craps or blackjack, to feed tokens into a slot machine, or to engage in any other game of chance. But the Governor of Nevada apparently has different priorities."
Is the Nevada ruling a threat to religious liberty?  Potentially, yes! John Inazu, the Sally D. Danforth Distinguished Professor of Law and Religion at Washington University in St. Louis, as well as the executive director of The Carver Project, comments on the Nevada case:   "There are various state and federal statutory protections, including the Religious Freedom Restoration Act (RFRA), but RFRA does not apply to state or local laws and regulations.  And absent federally mandated COVID orders, most restrictions are occurring at the state and local level . . . the key to protecting religious freedom during the pandemic is to ensure that religion is not treated less favorably than comparable non-religious activities.  But the word 'comparable' is extremely important. By now, we have a good sense from health experts that this virus spreads dangerously in high-density indoor spaces when people are exhaling with some intensity. That's very bad news for most indoor church services: they are close to the perfect storm. Pastors and ministry leaders should recognize that traditional religious services are high-risk activities, and they should expect to be treated similarly to other high-risk activities involving groups of people meeting indoors.  That doesn't mean that all group activities are high risk. An outdoor gathering with everyone wearing masks and spacing themselves six feet apart is lower risk than a church of 25 people meeting indoors and singing together without masks. So it's not accurate to conclude that if some similarly sized activities are permitted, indoor worship services must also be permitted. The key legal, policy, and epidemiological question is whether the activities pose similar risks to indoor corporate worship.  This is what makes the Supreme Court's recent refusal to address Nevada's restrictions so egregious. Restricting religious worship to fewer than 50 people, while allowing casinos and other businesses to operate at 50% capacity regardless of size seems plainly unconstitutional. I am astounded that five justices of the Supreme Court thought otherwise. That doesn't mean that churches in Nevada should open their doors like casinos. But it matters that we get the law right."
So, what do we do for now? Frankly, there is little we can do for the immediate future.  There is no national set of guidelines and each state is establishing different standards and rulings for dealing with COVID-19.  In the midst of this confusion, let's "Be people of hope who are known for putting the interests of others above your own. Lament the costs of this virus to human life, mental health, and material well-being. Lament our inability to gather for normal worship. Pray for the end of this virus. But in the meantime, love your neighbors and seek the peace of the city, even if it feels costly."
See Ian Millhiser, "The Supreme Court's surprising decision on churches and the pandemic, explained," VOX (25 July 2020); Ed Stetzer, "Obeying God Rather than Men? What's Really a Religious Liberty Issue?" www.christianitytoday.com (31 July 2020); and Ed Stetzer, "We Can't Roll the Dice on Religious Liberty: Nevada, the Supreme Court, and Churches," ibid., (25 July 2020).